Web Design on The Wirral
GET READY FOR TAKE-OFF!
Think handcrafted, professional, web design and development, it's what inspires us!
Working with many companies over the years we know that each business is different, this is why your site is built specifically for you.  Our team of web designers will accurately incorporate all your services, branding and business objectives into one beautiful website.
We design websites that get you business!
Call us on 0151 433 3362 or use our Contact Form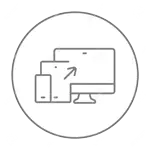 Responsive Web Design
We ensure your website looks great no matter the device it's viewed on, including desktops, smart phones or tablets. This is essential when catering for current day internet usage and it's what responsive web design is about.
All of our web designs intelligently adapt to the screen size of the viewing device, ensuring a faultless viewing experience to maximise user engagement!
User Experience – UX Design
It's important to make sure your site looks good but it also needs to be easy to use and navigate. Consumers will quickly move onto the next site if your design is frustrating or difficult to use. To guarantee an engaging user experience we employ the latest UX design principles, ensuring a beautiful site that your customers will enjoy.
Convert more traffic to customers with our professional UX designs.
Web Design
Process
We take the time to ensure your design and build is a success, from conception to launch – it's our passion!
Our web design team labour over every element, from choosing the correct colour palettes, typography, content and imagery, onsite optimisation for Google, keyword research, prominent call-to-action points, UX and Responsive web design. We'll make sure you love your new website and so will your customers!